Advance Sound Company was founded under the umbrella corporation of National Sound Industries, Inc. by Joel Mele in 1971. This organization focused on background music and rental sound systems, while providing smaller public address and paging systems. Advance Sound Company's first location in Deer Park, New York, served as the primary base of operation for a short while before Advance Sound's first expansion was necessary.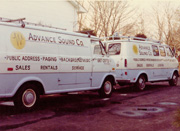 Purchasing the building at 6 Washington Avenue, Bay Shore, New York, this fifty four hundred square foot complex was situated close to Commack Road and the Sagtikos Parkway allowing more efficient delivery of equipment and materials to job locations. It was at this location that Advance Sound expanded from commercial paging systems into the educational paging systems and beyond. This location soon became the home of Advance Sound Company, as it is known today.
In 1988, Deborah and Al DePace purchased Advance Sound Company, moving it once again to a temporary location at 70M Corbin Avenue, Bay Shore, New York. After years of success and growth, Advance Sound once again sought a new facility and in 2006 moved into their current location at 157 Rome Street, Farmingdale, New York. This current facility features over seventy-five hundred square feet with enlarged manufacturing and warehousing facilities as well as a one thousand square foot training facility. Located directly off Route 110, this new location acts as a central access hub to New York City and Long Island, cutting down travel time to area based projects. Now partnering with over eighty manufacturers in the industry, Advance Sound Company has become a premier distributor and integrator of quality audiovisual equipment and solutions.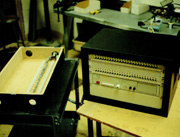 2014 became a pivotal year for Advance Sound Company. Advance Sound Company was selected as the audiovisual and broadcast integrator for the Stony Brook Arena, where industry coverage and architectural nominations brought attention to the firm. In late 2014, our president, Deborah DePace and the firm were certified a New York State Women Business Enterprise (WBE).
With over four decades of experience, Advance Sound Company has managed changes in customer base and technology with a sure hand. Pledges made at the start to fair dealing, careful workmanship, and professional courtesy became the foundation from which the company grew from leadership in public address systems to leadership in specialized, multimedia installations. Opportunities to serve a wide range of commercial and institutional communications needs were created by technologies coming out of research labs. Advance Sound Company embraced them with enthusiasm.
What once began with a primary focus on audio systems and rentals for sound reinforcement, Advance Sound Company has since expanded to include digital signage, video conferencing smart classrooms, visual communications, and more.